Celebrity
Taylor Swift Slams Sexist Interview Question: "I'm Not Going To Answer That"
By
|
We stan a legend who stands up to sexist interview questions. Right now, that legend is Taylor Swift. The 29-year-old singer-songwriter took an interview with German television station RTL and was asked whether she'd be settling down any time soon and becoming a mother with boyfriend Joe Alwyn. As you may have guessed, the "ME!" singer was not having it and clapped back at the interviewer — politely, of course — in typical T.Swift fashion.
"I really doubt men get asked the same question when they turn 30. I'm not going to answer that question," she said. Dayyyum, girl, tell 'em!
Elsewhere in the interview, Taylor teased what's to come on her upcoming album, saying, "There are political undertones in the new music… I'm not planning to stop encouraging young people to vote and to try to get them to talk about what's going on in our country. I think that's one of the most important things I can do."
"The album is really different from reputation. reputation really got to the bottom of dark emotions, and I think it can be complex and interesting to make your way through sombre emotions. Love and passion are just as complex to explore as a songwriter."
Safe to say we're even MORE excited for her next album now!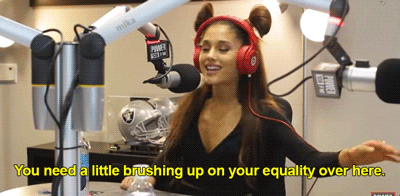 Taylor joins a loooong list of female pop stars who have had to stick up for themselves in the face of sexist interview questions. Ariana Grande once was asked if she had to choose between makeup and her phone, what would she choose. Like the icon she is, she told the radio host, "Is this what you think girls have trouble choosing between? … You need a little brushing up on your equality over here, this one!"
Rihanna was once asked what she's looking for in a man and she hit back, "I'm not looking for a man. Let's start there."
It's pretty unfair being a woman in the music industry, but hopefully interviewers are learning they better tread lightly with their sexist interview questions when A-list celebs like Taylor Swift, Ariana Grande, and Rihanna are shutting them the eff down.